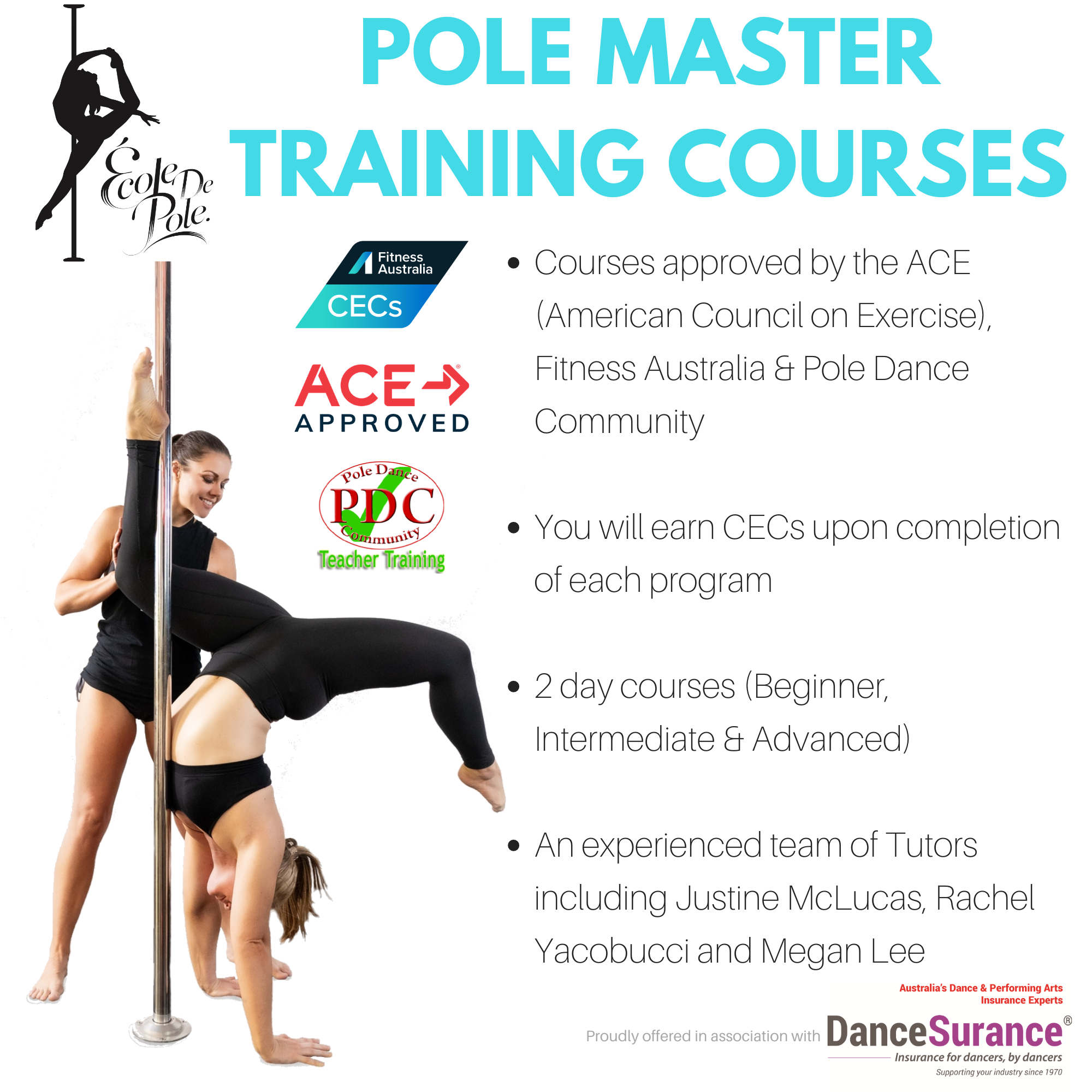 Are you passionate about POLE and want to make it your career? Then the Ecole de Pole MASTER Training Course series are for you! Based on functional teaching methodology written by Justine McLucas, each course builds on the knowledge of the previous from Beginner foundation skills, right up to Advanced spotting for flips and drops, with a focus on ways to see real results and technical growth in your students.
Suitable as an instructor training tool, for new or experienced teachers, the courses will also provide insight and skills for the pole dancer wishing to further their own personal understanding of pole training even if not to teach, but to apply improved techniques and training methods to their pole workouts.
STUDIO OWNERS: Host a course at your studio – one of our experienced Tutors including Rachel Yacobucci, Megan Lee, or founder Justine McLucas will fly to you and conduct courses as weekend or intensives to suit the needs of your studio. Get in contact for availability, dates and studio host discounts. Intensive 5 day Camps annually! Check details for international course locations and course camps HERE
EDP MASTER Training Courses are approved by the ACE (American Council on Exercise) and Fitness Australia.
EDP MASTER Training courses are approved by ACE (American Council on Exercise) and Fitness Australia and will earn you CECs.
Each EDP course includes in-depth manuals (supplied as PDF's to save the environment!) covering theory content, complete breakdowns with images for every trick and spin in each level, plus lists with technique points for Conditioning & Flexibility exercises, giving you the perfect foundation to a career in Pole Dance.
Each trick is categorized as Low/Mid/High or by level within each course, assisting with creating your own syllabus and class plans easily in the real world, catering for the many levels currently on offer at different pole studios.
Beginners includes over 80 pages of theory and anatomy chapters, with over 60 tricks, conditioning & flexibility exercises.
Intermediate includes over 110 pages of theory and anatomy chapters, with over 80 tricks, conditioning & flexibility exercises.
Advanced includes over 130 pages of theory and anatomy chapters, with over 110 tricks, conditioning & flexibility exercises.
Your Tutor has expert knowledge and experience and will be there to guide you and answer all of your questions.
Practical assessment, quizzes & worksheets will be given throughout the course to monitor understanding and progress. Successful candidates will receive a signed certificate upon passing each level.
Courses are structured over 2 days per level (Beg – Inter – Adv), in studio practical workshops & classroom tutorials, with some pre-reading requirements for each course.
Developed through years of experience, research & successful implementation in-house for over 10 years at Ecole de Pole studios in London, UK, Singapore, Poland & Cleveland, USA; the EDP courses are now available to the public as affordable training to develop your skills for teaching pole classes effectively, safely and with absolute confidence.
Graduates will be accepted for insurance by DanceSurance Australia (subject to meeting all other underwriting conditions), and receive $20 off their first annual premium.
Our Mission is to provide quality instructor training across all levels that is accessible and affordable, sharing knowledge and providing personal development to teachers and polers with safer technique and a thorough understanding of pole dancing and anatomy, and develop your skills to be practically applied to training and instructing.
TUTORS AND MASTER TRAINERS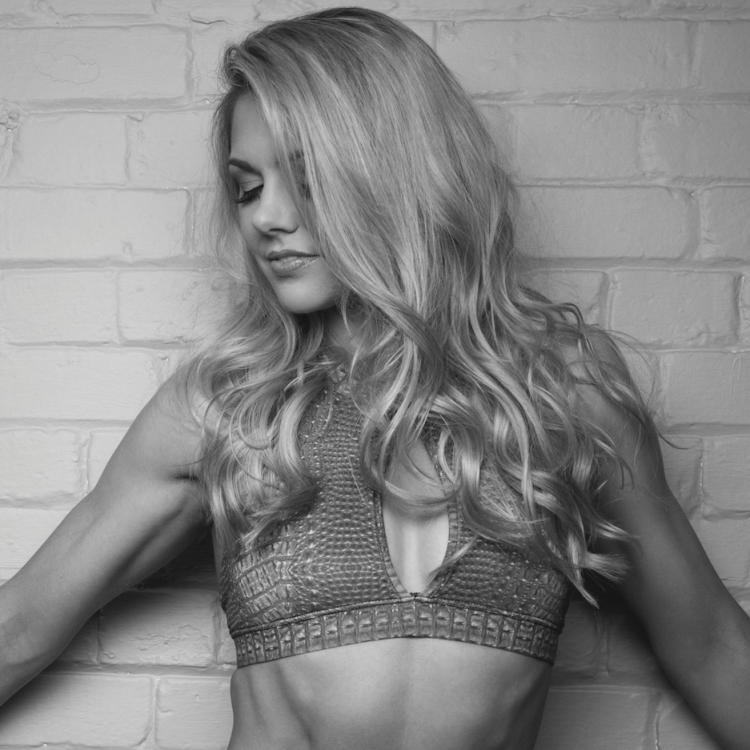 Justine McLucas
Justine is the founder of Ecole de Pole ®, now a multi-faceted pole dance industry brand, including the EDP Instructor Training Courses written by Justine, worldwide Pole Camps and Licenced studios. She established the London studio in 2010, with EDP now also in Cleveland, Ohio, USA. Australian-born Justine started dancing at 3 training in ballet […]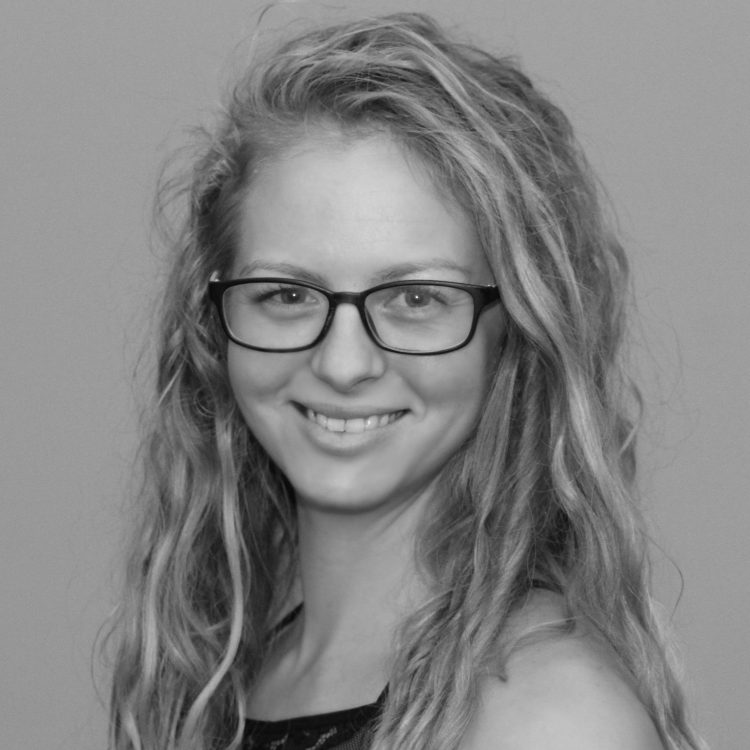 Rachel Yacobucci Becerra
Rachel began pole classes in 2015. Initially as a pole fitness student, Rachel excelled in daring tricks and drops that many other students were too wary to try. She grew so quickly in skill that she was made an instructor after less than a year, and taught beginner through advanced classes, always being sure to exhibit a demeanor of warm confidence and [. . .]
Megan Lee
Meg discovered pole in July of 2015, after many years of trying different sports and fitness regimes with no lasting interest. It took almost no time for the hobby to become a passion; she immediately bought her home pole and began learning tricks through Instagram and YouTube. Training upwards of 30+ hours a week, she began teaching group classes and [. . .]