Pole Fitness and Choreography Classes
Static Pole Basics
This pole class will introduce you to the basics of static pole, including but not limited to creating momentum around the static pole, different low-flow and inverted transitions, tricks and combos that flow seamlessly without the pole spinning. This class is suitable for all levels with progressions and regressions for those that have some static pole experience.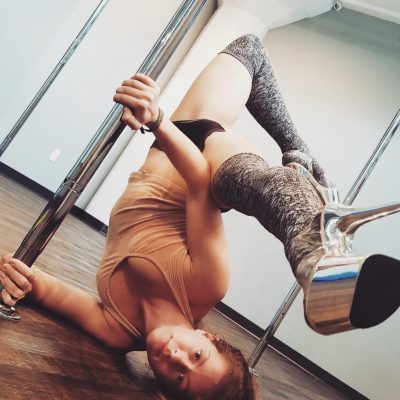 Exotic Basework
Want to learn how to dance, while performing some sexy, exotic movements on and around the pole? Then Exotic Pole is for you. Body waves, handstands, rolls, flips, and plenty of floorwork await in this 60 min class. Your instructor will coach you through a brief sequence, focusing on upping your confidence to make you feel like the most exotic version of yourself. Heels and leggings are recommended, but not necessary. Kneepads are highly recommended. Suitable for All Levels, but there will be no inverts and the movements will be contained to the base of the pole and the floor.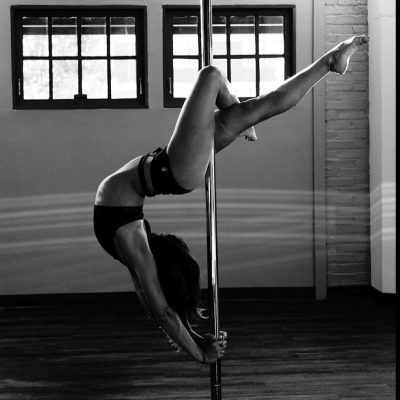 Flexy Pole Tricks for Inter & Up
Take your pole training to the next level by balancing strength and flexibility in this Flexy Pole Tricks class. Suitable for students who can aerially invert and are Intermediate or higher. During the class, your instructor will focus on different splits, backbends, and twisty shapes to challenge your body and mind. No flexy experience required, although helpful.
Yoga and Specialty Classes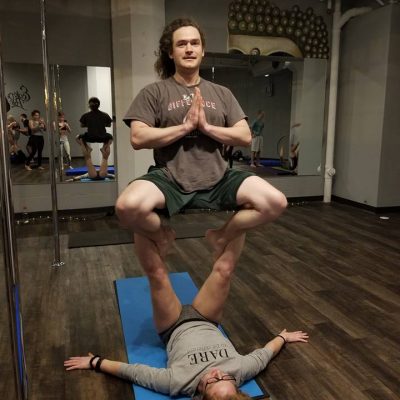 All Levels Acro Yoga
This class connects combinations of Intermediate and Advanced moves into beautiful, flowing choreography. Some classes are taught on static and some on spin pole. Students must have a firm grasp on Intermediate level moves (safely invert) and transitions before attending. Request approval from
Acro Yoga is a yoga practice that meshes yoga, acrobatics, and Thai massage. You work with a partner to establish humility, concentration, and trust. Each class is tailored to the level of the individuals from beginner to advanced.
New to Acro, Intermediate, or Advanced Yogis welcome in this All Levels Acro Class. No partner required!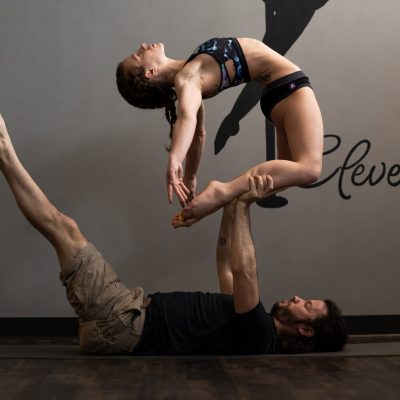 Intermediate Acro Yoga
Join your fellow Intermediate and above Acro Yogis in this fun and challenging class. You and your partner will be guided through more difficult Acro poses and washing machines, both standing and L-basing, in a safe and controlled environment. This class will push you to the next level of your Acro practice. No partner required; if you do not bring a partner, you will be partnered up with your classmates. This class is suitable for you if you have already practiced Acro and have a firm understanding of all the basics.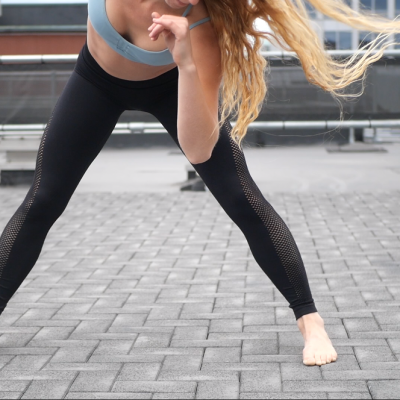 Buti Yoga
Buti is a dynamic Asana practice fused with primal movement, tribal dance, and deep core engagement. Fused with classic vinyasa and traditional yoga, not only is it an intense full-body workout, Buti has changed so many lives through connectivity with the self and your surrounding tribe. Suitable for beginner and up! Learn more at www.butiyoga.com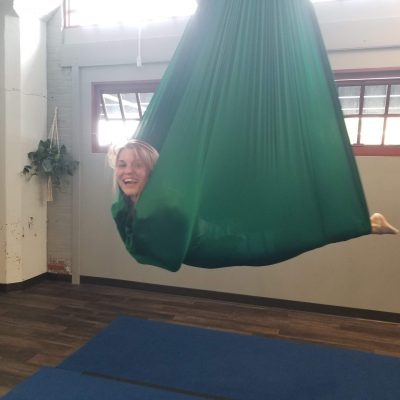 Aerial Yoga
Come fly with us during this hour-long aerial yoga class on our quality hammocks! The hammock acts like a swing or soft trapeze, supporting the hips for forward bends and back bends. Yoga postures which some find difficult to do on the ground are more accessible in the air. The benefits of aerial yoga are numerous, including increasing blood circulation, lengthening the spine, and decompressing the lower back. This is an all levels, beginner friendly class.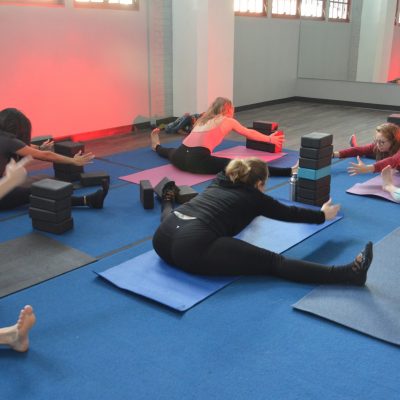 Active Flexibility
Suitable for all levels working to improve their flexibility, strength, and mobility. No matter where you are in your flexibility training, Active Flexibility will focus on your trouble spots to safely deepen your stretches and transform the way your body can bend actively and with proper intention. This class is highly focused on building muscle control to safely bring yourself in and out of deep stretches. These muscles will be worked actively throughout the whole class, as opposed to only passive stretching, which has the potential to cause injury. This class is an all levels class, which means beginner friendly. Advanced students will benefit from targeted activity designed to improve your end range strength for your oversplits and backbends.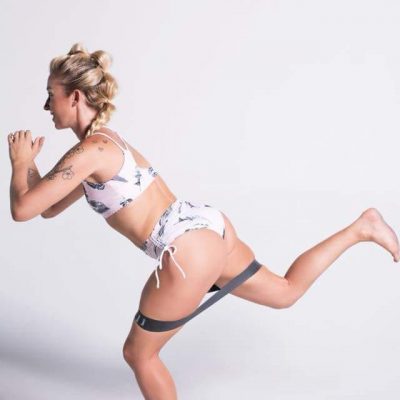 Buti Bands and Hotcore
Buti Bands is a HIIT-based resistance training workout targeted to LIFT + SHAPE your BOOTY while toning + strengthening the hips. Bands are utilized during high-intensity intervals to challenge the body through all planes of motion while targeting the hips and booty through lateral engagement. HotCore utilizes the Spiral Structure Technique to engage the deep muscles of the core.  Students practice in socks to facilitate fluid "drag" or friction creating resistance. The majority of movements in HotCore® build deep core strength best accessed through an exaggerated tucking of the pelvis and intentional rounding of the spine. In between sets, students move to restorative yoga asanas to stretch and lengthen. Buti Bands and Hotcore combines these short HIIT classes to create a killer burn you won't regret! Be sure to bring socks!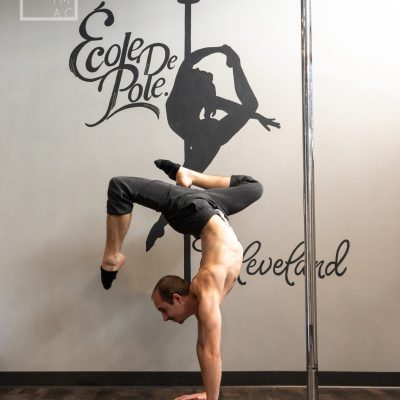 Pole Conditioning and Handstands
Join this conditioning class to take your pole work to the next level or simply to train handstands. This class will cover light tricks, but the majority of the hour will cover conditioning methods to improve form, lines, strength, and flexibility. Prepare for climbs, lifts, crunches, pole drills, and much more! Handstand mechanics will also be covered during the course of the hour depending on the level of the class. Some drills will be done on the floor away from the pole. Class is intermediate level and up. You should have a solid chopper, whether lowering down or lifting up.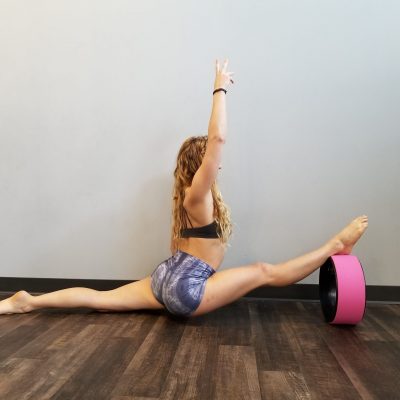 Stretch
Suitable for all levels working to improve their flexibility and mobility. Stretch is a basic flexibility class, with progressions and regressions for different student levels. The class will cover both passive and active flexibility. There is no pole in Stretch, so the class is open to nonpolers. But, if you are a poler, Stretch is a great way to give yourself consistent flexibility training to increase the range of motion when on the pole.
Additional Virtual Classes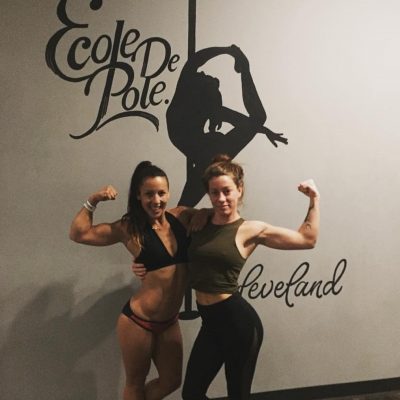 Off the Pole Conditioning
This class will focus on all the conditioning you need to keep your pole progress fresh, even when you don't have a home pole! We will be covering topics such as toe points, grip strength, active flexibility, and much more. No pole experience required!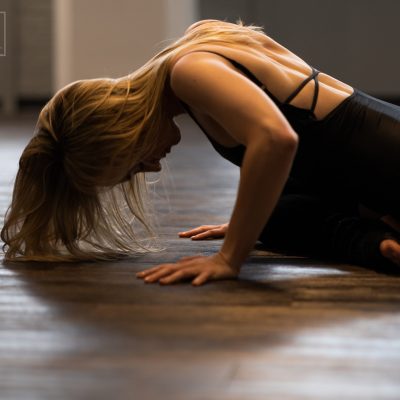 Beginner-Pre-Intermediate Floorwork
Floorwork is all about stringing movement patterns together without the use of a prop like a pole; your instructor will take you through a warm-up, followed by set conditioning moves tailored to the Beginner and Pre-Intermediate levels, appropriate progressions and regressions galore. Be prepared to shoulder roll, body wave, use your limbs for shape and expression. Different styles of floorwork will range from jazz, contemporary, slinky, and more.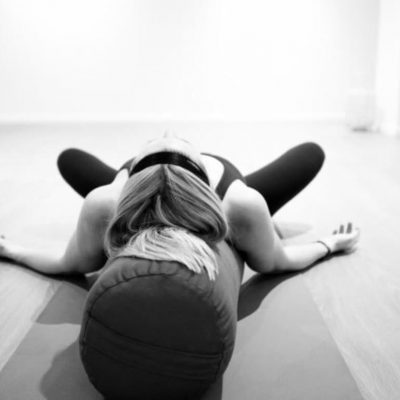 Guided Meditation
This hour long guided meditation will focus your attention on meditative thoughts, your breath, and your body. Keep your stress levels low and up those healthy coping mechanisms.