Workshops and Special Events
Sexy Choreo Workshop
Feb 12th from 6pm-7pm
Heat up your Valentine's Day with Sexy Pole Choreo, hosted by certified instructor Becky. Move through a slinky warm-up, getting in touch with your inner sensual self, before mastering a slow, controlled set of moves and transitions that all weave together to create a sexy routine that will wow. Shoes optional, socks mandatory. Bring kneepads if you have them!

Deep Resorative Workshop
Feb 16th from 12-1pm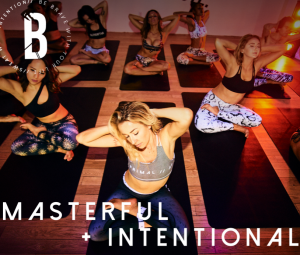 Masterful and intentional, DEEP is restorative movement sequence that utilizes the Spiral Structure Technique to connect mind to muscle and catalyze vibrational change on a cellular level. Unlike other Buti formats, DEEP is low-impact and utilized proprioceptive neuromuscular facilitation (PRF) to repair muscle damage and psychological disconnection to restore muscle innervation, connect you to areas of stores trauma in the body, and enhance blood flow to the body- especially the abdomen. The class structure also includes self-massage and pressure point activation to release muscles during deep restorative asanas, as well as a period of sound-healing.

Acro Yoga Beginner 6 Week Course
Jan 8th-Feb 12th from 7pm-8:30pm
Just in time for the new year, Ecole de Pole Cleveland has launched registration for a NEW Acro Beginner Course! We cannot wait to share this amazing practice and watch students fall in love with partner Acro.
Acro, or Acro Yoga, is a partner-based practice that builds upon its foundation slowly, increasing trust, communication, balance, strength, and flexibility. There are elements of partner Acro that hold roots in Thai Massage, so much of partner Acro is perfect for those that suffer from lower back stiffness and muscle tension.
Over this six week period, Eton & Meg- who have collective years of teaching experience, both in partner Acro and circus arts- will be covering the basics, expanding upon them as the class progresses until you are able to string together multiple moves and poses to create dynamic, fun sequences that are accessible for all body types.
During the duration of the course, we will:
• Increase verbal and nonverbal communication skills
• Increase trust, both in ourselves and our partner
• Increase strength
• Increase range of motion, particularly in the hips and back
• Increase balance in poses such as plank and downward dog
• Learn a mixture of basic Acro poses, transitions, and sequences
• Learn proper spotting techniques to keep you and your fellow classmates safe
The course will run from January 8th through February 12th, every Wednesday night, 7-8:30 pm. The first 20 minutes will consist of a yoga-style warmup, followed by a partner stretch and warmup before going into the instructive Acro portion of the class. The last 15 minutes of class will be a jam time to play around and finesse the moves we just learned!
NO partner is required. We will all work together, and many people begin partner Acro without an established partner. NO Acro experience required… this is for beginners and those just starting out!
Early Bird Pricing: $149 up through Dec 20th, $159 after Dec 20th