Floorwork Workshop
Jan 6th from 6pm-7pm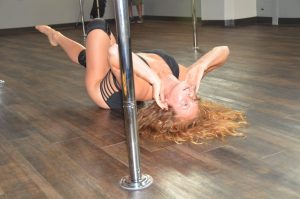 From the basics on up, this workshop will explore how to use the physicality of your body to connect with gravity and utilize the floor as a dancing partner. We will focus on traveling across the space (slides, rolls, inversions, etc.) while remaining connected to the ground. No previous floorwork experience necessary.
Acro Yoga Beginner 6 Week Course
Jan 8th-Feb 12th from 7pm-8:30pm
Just in time for the new year, Ecole de Pole Cleveland has launched registration for a NEW Acro Beginner Course! We cannot wait to share this amazing practice and watch students fall in love with partner Acro.
Acro, or Acro Yoga, is a partner-based practice that builds upon its foundation slowly, increasing trust, communication, balance, strength, and flexibility. There are elements of partner Acro that hold roots in Thai Massage, so much of partner Acro is perfect for those that suffer from lower back stiffness and muscle tension.
Over this six week period, Eton & Meg- who have collective years of teaching experience, both in partner Acro and circus arts- will be covering the basics, expanding upon them as the class progresses until you are able to string together multiple moves and poses to create dynamic, fun sequences that are accessible for all body types.
During the duration of the course, we will:
• Increase verbal and nonverbal communication skills
• Increase trust, both in ourselves and our partner
• Increase strength
• Increase range of motion, particularly in the hips and back
• Increase balance in poses such as plank and downward dog
• Learn a mixture of basic Acro poses, transitions, and sequences
• Learn proper spotting techniques to keep you and your fellow classmates safe
The course will run from January 8th through February 12th, every Wednesday night, 7-8:30 pm. The first 20 minutes will consist of a yoga-style warmup, followed by a partner stretch and warmup before going into the instructive Acro portion of the class. The last 15 minutes of class will be a jam time to play around and finesse the moves we just learned!
NO partner is required. We will all work together, and many people begin partner Acro without an established partner. NO Acro experience required… this is for beginners and those just starting out!
Early Bird Pricing: $149 up through Dec 20th, $159 after Dec 20th