Want to own your own Pole Studio?
We are looking for dedicated Pole, Fitness and Dance women & men to expand our brand with the opening of MORE Ecole de Pole studios around the world! We are open to everyone being part of the pole movement so men and women alike can own an Ecole de Pole!
We want YOU to find your place in the pole community by opening your own Ecole de Pole Studio in your city to run as your own baby, where you can build a fabulous friendly environment for training with the tools to provide an unparalleled pole syllabus, breed amazing dancers and be a successful pole-trepreneur too!   
Is this you?  Have you always dreamed of owning your own studio & being the Pole Boss?!  Then we want YOU NOW!!!  We are looking for people in cities across Australia – the United Kingdom (outside of London – sorry we already have our flagship studio there! But any other region or towns please get in contact if you want to be the next of our UK studios!) – or Ireland, Scotland – Europe – Middle East – New Zealand – Hong Kong – Malaysia – other areas in Asia – USA or Canada!! Anywhere where there are polers in the world, we think there should be access to the services and training offered by the Ecole de Pole brand so we want you to help us make that happen around the globe!  Become one of the crew and help us bring the services and standard of training that Ecole de Pole offers to more pole addicts everywhere!  McLucas Mafia to take over the world one pole at a time!
Owning your own business is hardwork – we won't lie… But nothing is more rewarding! It does take a special kind of person to be responsible for EVERYTHING though and to build on the integrity and values of the Ecole de Pole brand so far – so you will need to apply and tell us why YOU want to own an Ecole de Pole, and prove a few things to us (like your willingness to name your first child Justine… kidding!!! But you will need to be able to cough up the initial licensing fees and have access to finance the building of a new studio and rent etc to start up.. that's the serious bit… then we can play upside down happily ever after and invert around the globe visiting our sister schools and sharing the pole love the EDP way!) Ok it's not all roses and puppies (though we do have a herd of canine mascots at all our studios so far… anyone know of Chilli at EDP London or Missy at EDP Singapore?) If the puppies haven't convinced you why you NEED TO BE AN ECOLE DE POLE STUDIO OWNER then just see what you get below for joining the Ecole de Pole global community!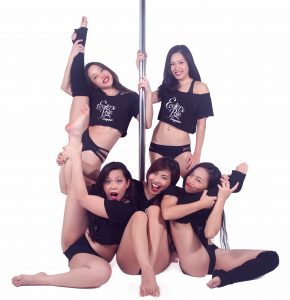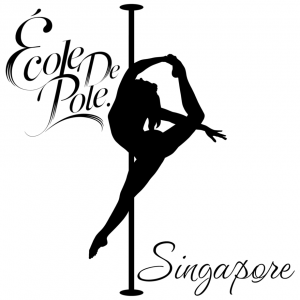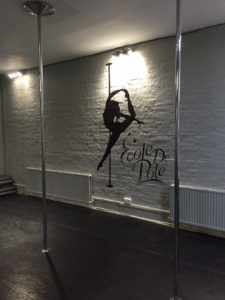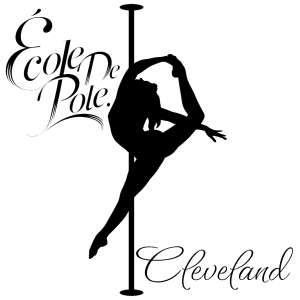 Your Package includes:
In person initial Instructor Training given by Justine herself (All 7 levels from Beginner to Advanced 3), to up to 4 initial staff members over a minimum of 6 days with full training manuals. This is the world renowned EDP Instructor Training Certification created by Justine, taught at EDP for over 6 years, as well as a full Beginners to Advanced/ Professional level syllabus trick by trick and combos with videos of routines and successfully being taught as a certified retail Instructor course by Justine round the globe.
Business procedures manual and Induction (bookings systems and initial getting started help on procedures, policies and running a studio)
The Operating Manual: everything you need to know to start up, what booking systems to use, and a lot of Know-How collected over 7 years of EDP operating so far, with Justine's history in investment banking spanning 9 years, combined into a manual so that you can step in and start up with everything you need from logos, to websites to contracts & of course the syllabus!
An established brand known globally across the entire pole community for its name and its Logo (Justine's famous Eagle!) – Justine and her brand have made it onto lists for Best Studio nominations numerous times (she was contracted as Artistic Director of Sweden studio The Dinali centre who purchased her syllabus and teacher training course in 2011), and she has taught thousands of students and instructors across every continent of the world over the last 9 years! Students, pole stars, circus artists and the like, all travel to London to visit EDP and its well known facilities and teachers or bring Justine to their own studios to teach their teachers, we also have an exciting studio in Singapore that is leading the way offering aerial silks and a full lyrical contemporary syllabus under the banner of Ecole de Pole and we are now open in the USA with Ecole de Pole Cleveland, Ohio!
Full pole rigging consultancy service will be provided to help you design the rigging of your poles, and offer technical support straight from one of Justine's team, the X Pole UK's technical manager for the last 5 years (now you can't get much more from the horses mouth than that!) Make sure your poles and studio set up are of the highest standard and safest, using our team to produce your rigging plans
You find the space – we will help you fit it out with design and rigging plans and advice.  Building can also be arranged where needed
You will be given a website!  Now that normally costs a bomb and takes months to build!  But yep, we will just give you one in line with the format and design of the super professional and sassy ecoledepole.co.uk site for you to start with! So you don't need to hold expensive photoshoots or have access to loads of images, pay graphic designers on top of all the other start up costs saving you time on the basics you need to get up and running as quickly as possible.
An expanding network of studios now in London, Singapore and Cleveland, USA (with more we can't wait to share with you!) – ensures you get global recognition and continuing advertising for your studio (all this global networking means growth growth growth! And lots of international support from your fellow EDP crew!)
Your Studio will be listed by PLACE on our central Ecole de Pole website along with all the other studios, and services offered by EDP, as well as mentions across our social networks, marketing materials and newsletters – continuing global advertising from an already established brand and position holder in the global pole community!
Merchandise – available to you to sell in studio including the famous slogans Whack Me, Pole Boss, Boss Ass & McLucas Mafia!
Access to the Global Ecole de Pole Staff community page to share ideas, ask each other questions and give or find support for you and your teachers and the other studio owners
Established POLE CAMP business with a well known name and business model. Run your own camps using the established Ecole de Pole Retreat name, or take advantage of hosting an Eat Sleep Pole Retreat in your own studio in your town and bring the world of pole to you! The Eat Sleep Pole Retreats have been taken from Barcelona, to Mallorca, Poland, Singapore, London and now in Thailand!  Become part of the team providing pole holidays in one of the most exciting and fun sub-business opportunities you have as an Ecole de Pole studio owner
A business license structure that gives you a reasonably priced (and feasible!)  way to start up your own business with the least amount of hassles in any country from Australia, to New Zealand to America or the Middle East!
About our Founding Pole-Mother
– Justine McLucas –
"Pole-trepreneur"
* 10 years in the pole dance industry, Justine has completed the UK Register of Exercise Professionals "Exercise To Music" and Level 2 PT Fitness Qualifications + numerous other Fitness credentials including Mat Pilates Instruction, and has had an extensive career as a ballet dancer and cabaret performer & aerialist (Hamburg Ballet, Cabaret Rouge, West End London, Got To Dance SKY 1 Top 34)
* Justine is now a female pole entrepreneur – single handedly building the Ecole de Pole brand in London, and taking it across the globe as far reaching now as Singapore & the USA and now wants more ladies and gents in the pole community to follow the pole-trepreneur path!!!
* A former investment banker in Sydney & London – Justine's business model combining her finance background with her extensive dance and fitness knowledge, has proven a huge success
* Still ranked in the top 17 in the most recent United Pole Artists Polers Choice Awards, Justine has planted herself firmly in the world of pole dancers. MissPole Dance UK tied 1st place 2011, Pole Divas UK 2010 2nd place, GOT TO DANCE Sky 1 Top 34, Britains Got Talent, Fitness TV, The Alan Titschmarsh show… read more on Justine HERE) she brings inspiration, top notch knowledge on dance and fitness, a love of sharing everything pole & dance related with her studios, and impacting on lives of people and dancers all over the globe – her reputation and her brand Ecole de Pole continues now to grow and grow.
* An avid philanthropist, Justine has used her position amongst the pole community to create events in support of UNICEF, ECPATT (against trafficking), McMillan Cancer Research, Jo's Cervical Trust, Starfish Volunteers and more.